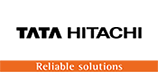 Benefits of using Tata Hitachi's Spare Parts
Tata Hitachi machines are designed and built to perform under stringent job site conditions. The durability of these machines can be increased and maximized by using genuine and reliable Tata Hitachi Genuine Spare Parts.
At Tata Hitachi, we make sure to offer highly efficient Genuine spare parts, which will rightly fit your machines and increase your machine's lifespan.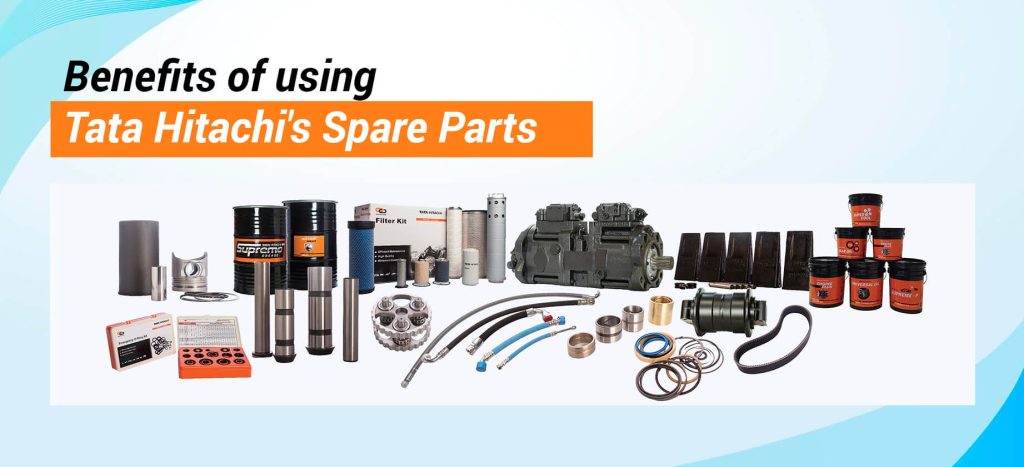 Tata Hitachi offers a wide range of spare parts:
Filters
Tooth points and Accessories
Lubricants
Pins and Bushes
Cylinder Parts
Engine Parts
Hydraulic Parts
Hoses and Pipes
O-Rings and Seals
Undercarriage Parts
Electrical
Rock Breaker Components
Overhauling kits
Why Tata Hitachi Genuine Spare Parts?
At Tata Hitachi, quality has always been our priority. We do not compromise on the quality of our products. Hence, only those parts which pass through our stringent quality test are branded as Tata Hitachi Genuine Parts. Ensuring machine productivity and creating customer delight.
Tata Hitachi Genuine spare parts are backed-up by best-in-class warranty. This enhances the reliability of our products.
Tata Hitachi Genuine Parts promise:
Efficient performance of the machine in harsh operating environments.
Reduced operating cost.
To aid in the extension of equipment life.
A reduction in unscheduled downtime.
Higher resale value of the machine.
Reduced environmental load.
Availability:
Tata Hitachi ensures that Genuine Spare Parts are always accessible for customers to maintain their machines – new and old – in accordance with original specifications and at the lowest operating cost.
Tata Hitachi has its Central Warehouse for Spare Parts in Nagpur, which covers an area of 1,30,000 sq. ft. area with an overall stock of more than 35,000 line items of spare parts. It is strategically located at the centre of the country, and the warehouse is well connected by rail, road, and air transport for parts to reach the customers in the shortest possible time.
The company also maintains three new Regional Warehouses with state-of-the-art technology in Dharwad, Kharagpur, and Dharuhera, which cater to speedier deliveries for Southern, Eastern, and Northern dealers/customers.
Tata Hitachi has 250+ touch points which makes us reach our customers very easily
Tata Hitachi also offers an E-Commerce platform called www.tatahitachiparts.com
On this website, customers can log in with their registered IDs, access the online parts manual, check parts availability, and avail 24*7 Convenience of online ordering and delivery at your doorstep.
Why buy Genuine Parts?
Recently, the market for corrupted excavator parts has developed, with non-genuine replacement parts becoming increasingly available. Non-genuine parts can damage machines resulting in unnecessary breakdowns and loss of productivity, thereby increasing the operating costs in the long run.
Safety:
At Tata Hitachi, we do not compromise with safety. Thus, ensuring the safety of the operators and the mechanics is our major concern. Tata Hitachi designs all their equipment, keeping in mind all safety guidelines, even at a higher cost. Non- Genuine parts can be of poor quality and can risk the life of the operators and helpers. Genuine Spare Parts enhance the safety of the operators and the machine.
Durability:
A Genuine Spare Part goes through a stringent testing process and is developed to best fit your machines and thus increases the Durability of your Heavy equipment. In the case of Non-Genuine products, they are sold at a lower cost and are often targeted for a larger customer base. Thus, it can be a misfit to your construction equipment.
Cost over a Period:
One of the main reasons customers look for Non-Genuine Products is that they are found at a much lower price. Over a longer period of operation, Non-Genuine parts increase the chances of a machine breakdown, which results in a higher expenditure of money. Instead of this, if we invest in Tata Hitachi Genuine parts, it enhances the durability and reliability of the machine.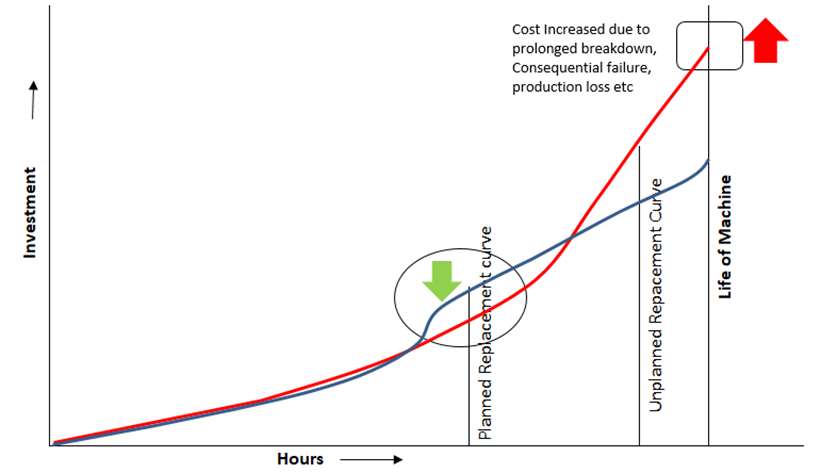 Through this graph we can interpret that by using Genuine or Non-Genuine Spare Parts, the initial investment for the initial working hours of the machines remains the same but over a period the investment increases due to machine breakdown for using of Non-Genuine Spare Parts and the life of the machine also decreases.
Higher resale value:
When it comes to reselling, machines that have been well-maintained, serviced by authorised dealers on a regular basis, and fitted with original components are favoured and receive a greater resale value. This issue does not develop while using non-genuine spare parts, but it becomes apparent throughout the resale process. Thus, utilising non-genuine spare parts has long-term consequences.
Tata Hitachi Remanufactured Component:
Tata Hitachi ensures that customers receive products that are high in efficiency, reliability, and durability. Tata Hitachi Re-man offers a low-cost, high-quality solution for keeping machinery operating.
At Tata Hitachi Re-man, we provide a variety of choices that add value to customer operations for 40% to 60% less than the cost of a new component for the same equipment. Combining that low cost with the same service life as the original gives you a Tata Hitachi solution that lowers ownership and operating expenses while increasing fleet productivity. And to ensure customer's confidence on any task, these components are supported by a comprehensive Tata Hitachi Re-man warranty.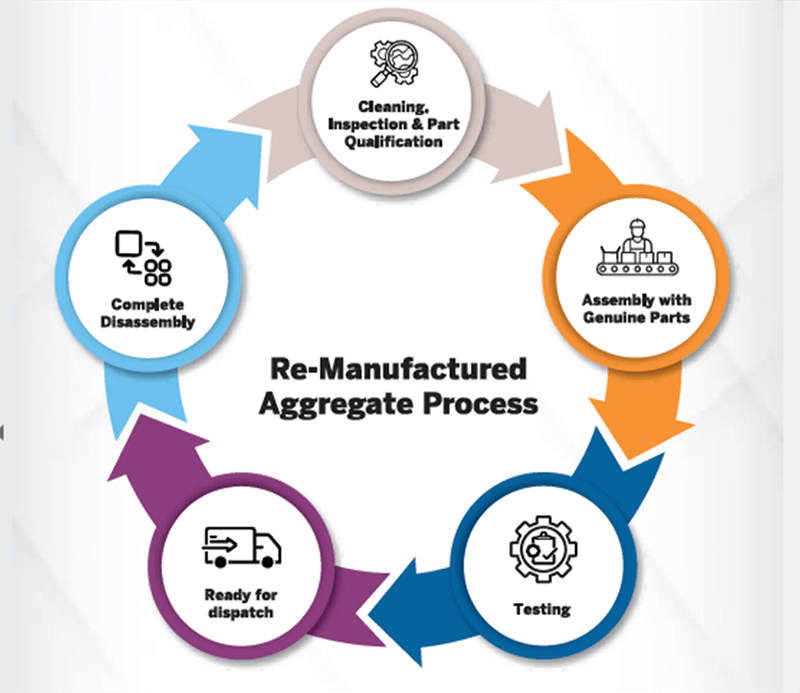 Each component is completely disassembled, and each part is inspected. Each of the parts should meet the OEM specifications, or it is not reused. Parts that are scrapped during the remanufacturing process are replaced with high-quality parts that match the component's original specifications.
To maximize performance and durability, we include all product upgrades into the Re-man components. Each component is rigorously tested to OEM requirements after assembling. After passing all the testing, the component is painted, packaged, and put in the Tata Hitachi parts distribution system, where it will be ready to use when needed.
Our Remanufactured Products include: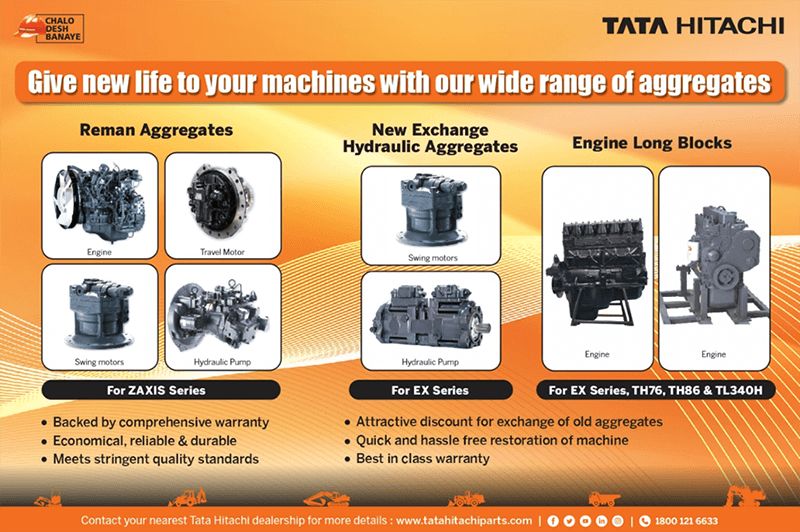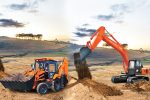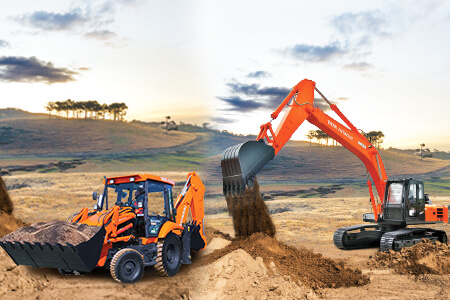 ←

Previous Article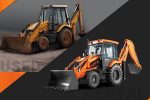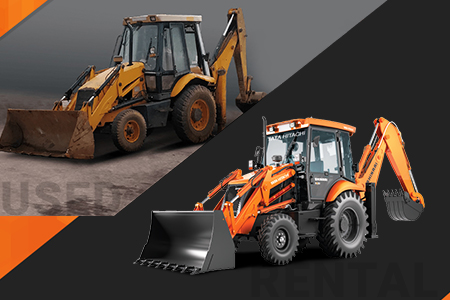 Next Article

→
Recent Articles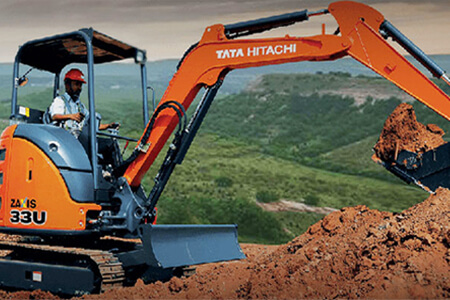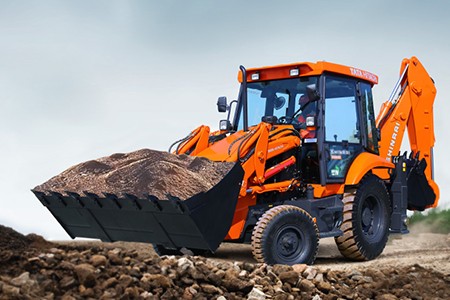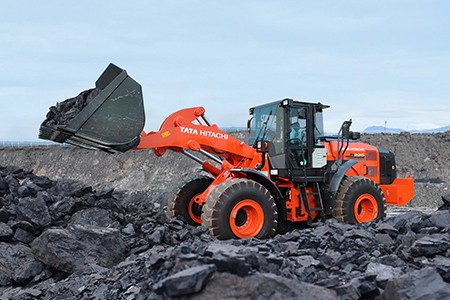 Related Articles