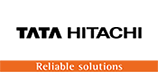 insite
Insite
A GPS and GPRS based remote machine monitoring application
Key Parameters being monitored
Insights to your Job Site
A scalable, modernized foundation to Tata Hitachi Asset Tracking
A full scale Mobile Ready OE Solution from Tata Hitachi targeted to address key roles at the jobsite
Will give you Answers to questions with actionable information
Configurable dashboards, streamlined workflows & enhanced performance
More frequent Data Polling, Data Flexibility, Security
User defined geofencing and notifications
Answers what Every customer wants to know
Is the machine working where it is supposed to?
When do I need to refuel and do it efficiently?
How many hours did my machines work last week?
Is my machine idling excessively?
Where are my machines?
InSite Web Portal Features
Supports multiple users in different locations
Near real-time monitoring of fleet utilization
New and existing equipment
Understand and improve Asset's Utilization
Monitor and improve Asset's Operation
Employ Predictive Maintenance
Make more Effective Decisions.
Custom Dashboard View