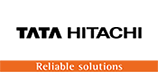 Tata Hitachi: Chalo Desh Banaye : Building the India of tomorrow
Tata Hitachi: Chalo Desh Banaye
Tata Hitachi: Chalo Desh Banaye : Building the India of tomorrow
– December 14, 2017
A joint venture between Tata Motors Limited (40 %) and Hitachi Construction Machinery Company Limited (60%)
Two plants at Dharwad – Karnataka and Kharagpur – West Bengal
Product lineup encompassing a wide range of excavators: from 2T – 800T Excavators , 35T to 290T Rigid dump trucks, Wheel Loaders and Backhoe Loaders
Star attraction at EXCON 2017: Unveiling of the all new backhoe loader, TATA HITACHI SHINRAI.
ZAXIS140H, EX210 Super quarry variant , EX210 Super with an indigenous super long front attachment , INSITE – a new telematics suite for the EX series of hydraulic excavators and wheeled products, launched.
An extensive range of customized attachments meeting the demands of several specific industry applications displayed.
ZH200 – the revolutionary hydraulic excavator incorporating advanced technologies adopted from hydraulic, electric and battery powered excavators on display
This year, Tata Hitachi's stall theme showcased the company's commitment to the theme of Chalo Desh Banaye. Mr Sandeep Singh, MD Tata Hitachi mentioned, "As an organization, we continue to create new milestones and strive towards building a brighter, better tomorrow. In this edition of EXCON the star attraction at our booth was the unveiling of our all new backhoe loader -TATA HITACHI SHINRAI. Designed and manufactured on the key pillars of capability, reliability and trustworthiness, SHINRAI is an engineering masterpiece built in collaboration with Tata Technologies and Hitachi Construction Machinery, Japan. This all new backhoe loader with its new and advanced features stands true to its name – SHINRAI: a Japanese word that means trust, reliability and confidence." The launches at the Tata Hitachi booth included
ZAXIS140H: the latest addition to the GI series, promising unbeatable performance
The quarry variant of EX210 Super – with a heavy duty track chain, rollers, idler and re enforced bucket and front attachment links
EX210 Super with an indigenous super long front attachment, re designed and strengthened to suit Indian conditions.
Keeping pace with technology, Tata Hitachi launched INSITE – a new telematics suite for the EX series of hydraulic excavators and wheeled products. Armed with a GPRS based remote machine monitoring application, INSITE helps the customer view machine location and operation through alerts.
Launches apart, the high point of the Tata Hitachi stall was the display of the ZH200 – a revolutionary hydraulic excavator armed with hybrid technology. A testimony to the technological prowess of Hitachi, Japan, this excavator from Hitachi is the first to introduce the revolutionary hybrid technology into Hydraulic Excavators. This excavator incorporates advanced technologies adopted from hydraulic, electric and battery-powered excavators. Also on display was EX70H: an excavator custom built for quarry and heavy duty applications, EX110 shovel variant: a first one of its kind in the 10T category, ZAXIS370LCH: custom made for quarry and granite applications, the super productive and fuel efficient ZAXIS470H, enabled with ConSite. Also displayed was TL340H, the first hydrostatic wheel loader manufactured in India and the compact and power packed duo of ZAXIS20U and ZAXIS33U. Added attractions were Tata Hitachi's Service Vehicle, the operator training simulator, the display of a wide range of customized attachments addressing specific customer needs and genuine Tata Hitachi spare parts.