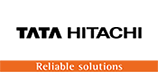 EX 70 Prime Series
Model: EX70
|
Engine Power: 49 PS @ 2000 rpm
|
Operating Weight: 7200 Kg
|
Bucket Capacity: 0.13 - 0.68 m3
CONSTRUCTION EXCAVATOR - EX 70 PRIME SERIES
Everything you need in your 7 Ton Excavator is Performance, Dependability, Comfort, Safety, Return On Investment, Connectivity and Versatility. Tata Hitachi's EX70 Prime Series Hydraulic Excavator sets benchmarks in all these areas. The machine has been designed to provide precision control, high fuel efficiency, high productivity, superior operator comfort, excellent versatility and unmatched return on investment.

Higher Production
Next generation high torque engine (20% higher torque engine)
Engine compatible with futuristic emission norms
Intelligent Optimum Hydraulic System (iOHS)
Wide range of buckets designed for higher fill factor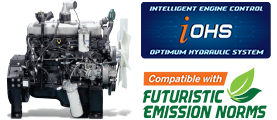 Least Fuel Consumption
Auto Idle and Auto Deceleration
Mode selection- EP and HP mode
Dial type throttle
Fuel saving pump system
Hydraulic regeneration system


Higher Durability
Strengthened arm bucket joint (10% higher boss diameter and flanged bushes)
Reinforced track frame (near idler)
HD track frame
Track guard as standard fitment
2 point upper roller support
Strengthened bucket



Higher Reliability
Proven Hitachi technology
CAD designed, robot welded, tested and validated to international standards
Proven and reliable aggregates




Low Fuel Consumption
iOHS Japanese hydraulics
Fuel saving pump
Dual work mode
Low Maintenance Cost
Long drain hydrailic oil- 4500hrs
Maintenance free cyclonic air pre cleaner for longer engine life
Fuel pre filter for better filtration efficiency
HP return line filter for longer life of hydraulic aggregates
High Resale Value
Most trusted brand
Largest dealer network
Highly reliable & durable machines
Easy availability of parts & support

Comfort
Smooth operating levers. 30% reduced effort
Ergonomic controls with all new audio player (USB+FM), fan for prime comfort
100% pilot controlled operations including dozer & travel
Weight adjustable suspension seat with multiple seat adjustments
Air Conditioning (Optional)
Safety
Seat belt, front guard, anti skid tapes for operator's safety
Baffle plates to separate hot & cold zones
Starter motor with thermal cut off to prevent over cranking


Attachments:
The machine comes in tailor made options and is easily customizable with various attachments
Option of factory fitted rock breaker piping kit

Options*:
Available in following options:
Arm - Standard arm / Long arm
Tracks - 450mm / 600mm
Wide range of buckets for wide variety of applications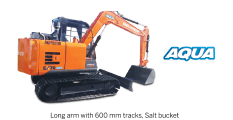 Ability to track Machine Maintenance Service due date
Fleet Management
Overall Fleet Summary in Graphical Widgets (Dashboard)
Fuel Level
Location, Geo Fencing
Asset Operation
Asset Utilisation
Accessible on Web and App

Wide spread dealer network for easy availability of spare parts
Field diagnostic vehicle and mobile workshop for quicker after sales service
Peace of mind through extended warranty*
Extended service intervals for reduced maintenance cost.




FEATURES - ADVANTAGES - BENEFITS