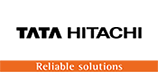 ZW 310-5A
OVERVIEW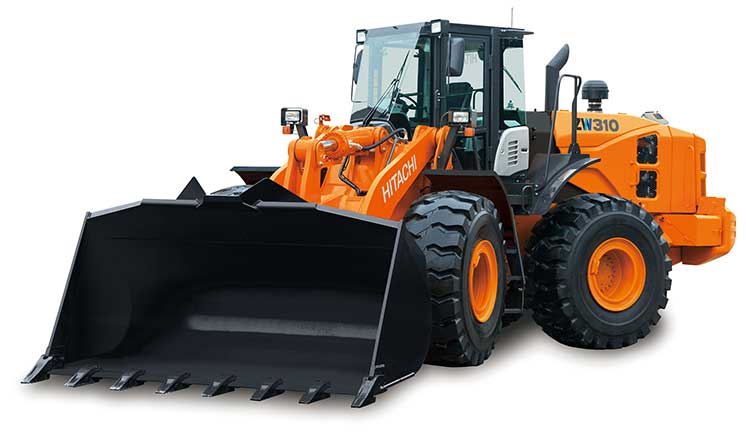 The new ZW 310-5A is a wheel loader that utilizes innovative technologies to achieve excellent productivity with enhanced controllability. In addition, the machine has a comfortable cab, easy maintenance features, and Hitachi's comprehensive service package, including ConSite, facilitating operators to work efficiently in tough environments.
FEATURES
Powerful and Efficient
2 Ways to Activate Power Mode – Power mode can be activated by 2 ways and operators can choose either switch depending on the site required.
Active Engine Control System – It helps in achieving economical operation. Detects movements throughout the machine and adjusts engine speed accordingly for smooth and fuel-efficient operation.
Parallel Tandem for Smooth Operation – It carries out simultaneous operations. Boosts the efficiency with smooth loading and excavation.
ECO Mark Indicator for Fuel – Efficient Operation – This function encourages operators to utilize fuel efficiently.
Extra Power with power mode – Standard mode is preselected and sufficient for ordinary work. On the other hand, the power mode gives
extra power when needed.
Enhanced Controllability
New Levers for Easy Operation – New type of lever suits both fingertip control and grip control.
Speed-Responding Clutch Cut-Off System – Adjustable clutch cut-off timing for smooth and efficient truck loading.
Lift Arm Restriction Valve – Eliminates shaking of the machine to improve operator comfort and avoid load spills.
New transmission – New transmission comes standard with the Auto mode* that can automatically select an optimum gear according to the load, thereby reducing fuel consumption.
Operator-Friendly
Bi-Level Auto Air Conditioner – Bi-level control function: warming at foot space and cooling at overhead.
Panoramic Cab – Near all-round visibility through pillar-less bonded windows, enhancing safety. Adjustable seat and steering wheel to suit the operator, keeping the operator in an optimum position.
Tiltable Steering Wheel – Tiltable steering wheel for comfortable operation.
Comfort-Designed Suspension Seat – The mechanical suspension seat absorbs shocks and vibration to reduce operator's physical stress.
AM/FM Radio with 2 Speakers – Auto-tuning feature and 2 speakers stereo system provides excellent sound quality.
Simplified Maintenance and Durability
Robust Frame – Strengthened main frame and its joins. Optimally determines frame plate thicknesses.
Automatic Reversible Cooling Fan to Reduce Dust Deposits (Optional) – Keeps the radiator clean at all times. It automatically self-reverses every 30 minutes to blow dust off the radiator.
Wide Fin Pitch Radiator (Optional) – Advantageous in dusty environments, avoids dust clogging and overheating.
Disclaimer:
These specifications and features are subject to change without prior notice . The machine depicted may vary from the actual machine. Please contact our nearest office for latest specifications.
Accessories shown here are not part of the standard equipment. Performance of the machine may vary with site and operating conditions encountered.