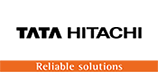 Leveraging technology to build strong products
Tata Hitachi: Leveraging technology to build strong products
– October 31st, 2018
A joint venture of Tata Motors Limited (40%) and Hitachi Construction Machinery Co. Ltd. (60%) and subsidiary of Hitachi Construction Machinery Co. Ltd, Japan
Three plants at Jamshedpur Dharwad – Karnataka and Kharagpur – West Bengal
Product lineup includes a wide range of excavators: from 2 Ton – 800 Ton Excavators, 35 Ton to 290 Ton Rigid dump trucks, Wheel Loaders and Backhoe Loaders
Over five decades of experience in serving Indian customers with products of a global standard
A customer centric organization
With a technologically advanced product portfolio and solutions
Strong distribution network
Dedicated site support
Skill development training for operators
Kolkata, October 31st, 2018:
Tata Hitachi has been a prime mover in leading sustainable development in the fields of Infrastructure & Mining for decades. Focused on delivering global excavation and haulage solutions to suit Indian working conditions, Tata Hitachi has embraced all the challenges that have come its way. Tata Hitachi prioritizes service and parts support to customers through a strong distribution network. Which includes a marketing head office, regional offices, branch offices and dealerships spread across the length and breadth of the country. A leader in site support operations, Tata Hitachi offers a complete scope of support solutions such as Full Maintenance Contracts, Site Support Agreements, and Annual Service Contracts etc. A pioneer in introducing the latest technology for hydraulic excavators, Tata Hitachi has migrated its products to incorporate features like online access to location of equipment, online health monitoring system, automatic sensors and alarms for machine health, maintenance, electrical excavators, AC drive rigid dump trucks, etc. In addition to this, the organization has introduced ConSite – an IT enabled tool through which machine reports are transmitted to the customers' e mail ID: helping them make their operations smart & efficient. The parent company – Hitachi Construction Machinery Co. Ltd., Japan – has also been continuously evolving technology for mining excavators and rigid dump trucks. Hitachi offers a fleet management system – "WENCO" – to make equipment utilization effective and efficient: thereby making the mining operations more productive. Speaking at the Tata Hitachi pavilion,
Mr Sandeep Singh, Managing Director, Tata Hitachi
said "At IMME, we are demonstrating our unmatched strength in Mining by showcasing our Hydraulic excavators: ZX 870H, ZX 650, ZX 470H (Backhoe), & the Wheel Loader TL 340H. Along with this, our support pavilion showcases ConSite , the Training Simulator, the FMC Pavilion , attachments (Rock Breaker), spares support counter and the new Hammer-less tooth points designed and developed by Hitachi for the Ultra Large Class of excavators. He adds, "Using the IMME platform, Tata Hitachi is conducting a seminar on mining technology with the participation and presentation from subject experts from Japan and Australia. Through this platform, we aim to improve the knowledge base on mining among our key stakeholders and customers. This is part of our inclusive approach for sustainable development in core sectors"
Mr.Shin Nakajima, Director Sales, Marketing and CSD mentioned :
"Tata Hitachi is committed to skill development to improve employability and social upliftment. The India opportunity presents a large volume of development pending to be addressed in infrastructure and mining. High performance equipment supplied to the market demands a bank of trained operators, mechanics, service personnel and project managers. To meet this challenge, we have set up Skill Development Centers and Operator Training Schools at Kharagpur and Dharwad".