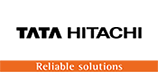 Tata Hitachi Celebrates 60 Years of Operations
About Tata Hitachi: Tata Hitachi, one of India's oldest construction machinery companies and largest excavator company, is a joint venture between Tata Motors and Hitachi Construction Machinery (HCM). The partnership with HCM commenced in 1984 and is today one of the longest-standing JVs in the industry. The company has a manufacturing presence in Dharwad and Kharagpur and over 240 customer facing touchpoints including sales and service.
Set up in 1961 as the Construction Equipment Division of TATA Engineering and Locomotive Company (TELCO), today, the company boasts of a diverse portfolio of mini excavators, construction excavators, mining excavators, backhoe and wheel loaders, and dump trucks, apart from a wide range of attachments, all catering to a broad range of applications. The company also offers industry-best options for after sales services like Annual Maintenance Contracts, Full Maintenance Contracts, Site Support Agreements, and more. This year marks the 60th year of operations of the company.
Dharwad / Kharagpur, November 17, 2021: Tata Hitachi today celebrated the landmark milestone of 60 years with the commemoration being led by the company's state-of-the-art manufacturing facilities at Dharwad and Kharagpur. Machines were handed over at both locations to a select group of customers to mark the occasion. In addition, long-time customers of the company were also honoured at the plant, as well as the company's corporate office at Bengaluru and branch offices across the country.
Speaking at the occasion from Tata Hitachi's Dharwad Plant, Sandeep Singh, Managing Director, Tata Hitachi said, "Our success through six decades rests on the foundation of reliable product line up ranging from 2- to 120-ton Excavators, Wheel Loaders and Backhoe loader named Shinrai, which are manufactured at our plants at Kharagpur and Dharwad in India, supported by a well-equipped and widespread dealer network across the country. Tata Hitachi has been a pioneer in the Mining segment as a committed and dependable partner with the range of Mining Equipment with a strong back of servicing support."
Shin Nakajima, Director, Sales and Marketing, addressed the attendees from Tata Hitachi's Kharagpur plant. Speaking at the occasion, he said, "The partnership between Tata Motors and Hitachi Construction Machinery brings to the table a unique amalgam of cutting-edge Japanese technology and Tata's strengths of localisation as well as leadership with trust. This forms the foundation of the Company's success and its market standing in the excavator segment for several decades now."
The company's journey began in 1961 with the commencement of the construction equipment division at Jamshedpur. Since then, the company has grown from strength to strength. Today it has expanded to two state-of-the-art manufacturing plants at Dharwad and Kharagpur, as well as over 240 customer-facing touchpoints, one of the largest such footprints in the industry.
Apart from this, Tata Hitachi has also set up a captive remanufacturing facility to provide customised solutions to customers with Attachments, Refurbished aggregates and Certified Used Equipment at a competitive price to improve efficiency and life cycle.
"We have played a humble role over the last 60 years to lay a strong foundation by adapting cutting edge technology from Hitachi Construction Machinery. With special focus on localisation, a substantial part of our equipment is sourced and manufactured in India, making us truly Aatmanirbhar," said Singh.
"We are steadfast in our intent to further expand our commitment towards supporting the Nation Building drive of the Government by developing infrastructure for Road, Rail, Ports and Urban development. We are resolute in our pledge of 'Chalo Desh Banaye,'" he added.
Apart from the celebrations today, the company is also commemorating the occasion through a bevy of initiatives on mediums including its website and digital platforms. Please click on the following link to view the company's entire journey across 60 years: https://www.tatahitachi.co.in/celebrating-sixty-years/