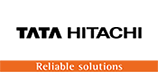 Celebrating Sixty Years
60 years of nation building
Our journey of 60 years is one of commitment to the nation and to our customers. Over the past sixty years we have built our capacity and capabilities to achieve a leadership position in the market, especially in the excavator segment. Our capabilities built over the years involve a large family of customers, dealers, and employees. As we enter the sixtieth year of our operations, and look forward to future accomplishments, we welcome you to follow our journey.
Our journey of 60 years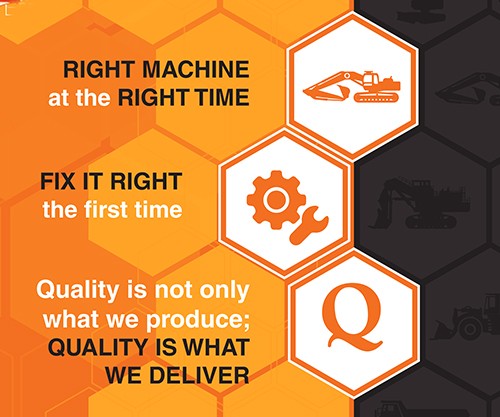 Customer centricity
"Our vision has been to keep the customer at the fulcrum of our activities – forming the basis of our three guiding principles:
Providing the right machine at the right time
Fixing it right the first time
Quality is not what we produce but what we deliver
These principles have stood us in good stead over our 60-year journey. Our journey, however, is far from over. We are poised to build on our strengths and committed in our intent to contribute to our country's growth story.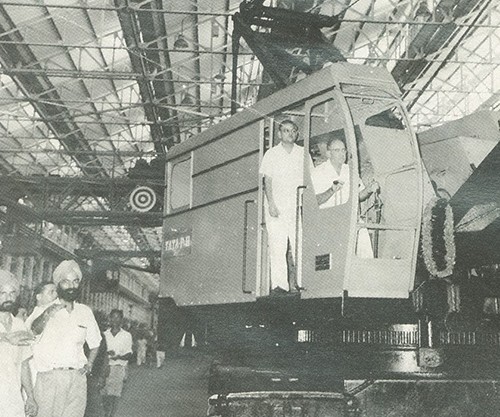 Foundations laid and strengthened
The foundation of our journey was laid in 1961 by TATA Engineering and Locomotive Company or TELCO, with the commencement of the Construction Equipment division at Jamshedpur. The 1st 955 excavator was rolled out the same year from our first plant at Jamshedpur. Spanning an area of nearly 17 acres, the plant was a self-sufficient unit with its own facilities for fabrication, heat treatment, machining, aggregate assembly, final assembly and testing facilities.
Over the next couple of decades, we grew from strength to strength. Our line-up of products was expanded and bolstered with a range of equipment catering to industries ranging from infrastructure to mining. This played a key role in establishing our leadership position in excavators.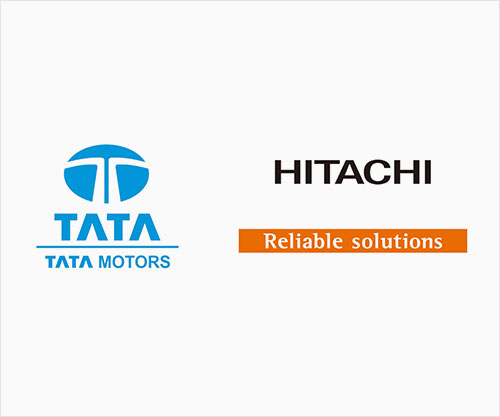 A partnership that has stood the test of time
1984 marked the beginning of our partnership with Hitachi Construction Machinery. This was the beginning of a partnership that would go on to stand the test of time as one of the longest standing joint ventures in the Construction Equipment industry. True to our customer-centric philosophy, our technical collaboration was an affirmation of our intent to provide advanced cutting-edge technology to Indian customers. This laid the grounds for our Global Initiative that would designate our manufacturing facilities as export hubs for Hitachi Construction Machinery, Japan.
Our partnership was further strengthened with the launch of the Construction Equipment Business Unit, or CEBU, in 1994. In 1999, the Construction Equipment Business Unit was renamed Telcon.
In 2000, a joint venture was signed between Tata Motors and Hitachi Construction Machinery. The partnership was further bolstered through two agreements signed in 2005 and 2010.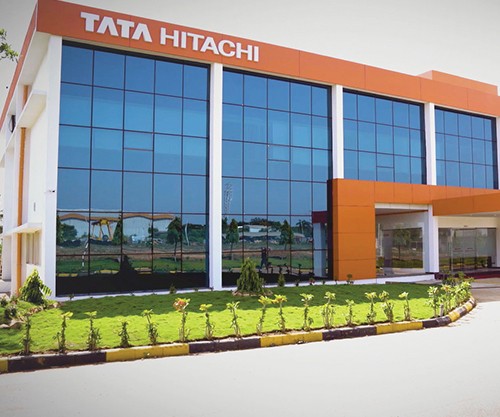 Our state-of-the-art plant in Dharwad is inaugurated
In 1998, we established a state-of-the-art manufacturing facility in Dharwad, Karnataka. Spread over 118 acres, the plant is built to manufacture high volumes of a range of machines including excavators from 7-ton to 20-ton class and backhoe loaders.
Apart from an in-house paint facility, the fabrication facility of the plant includes tracking fixtures, robot machines and a machining centre. The assembly and testing facility includes mini, midi and wheeled equipment manufacturing shops. Committed to continuous improvement, we have introduced IoT, automation and Kaizen to enhance the efficiency of our manufacturing process. These have demonstrated significant advantages such as reducing risk level and operator fatigue, process standardisation, reduction in cycle time, reduction of consumable costs, improvement of posture and reduction in Standard Man hours.
The Dharwad plant has produced more than 70,000 machines to date.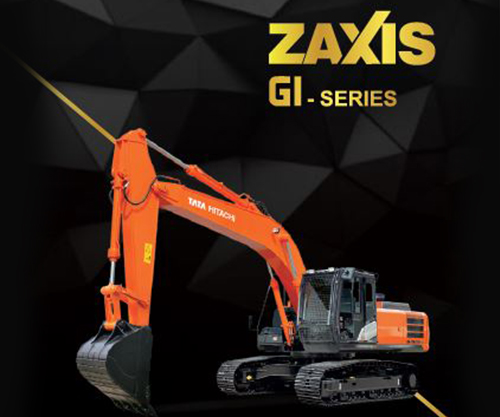 Committed to global standards – ZAXIS series launched in India
Soon after the signing of the first JV with Hitachi Construction Machinery in 2000, we launched the ZAXIS series excavators in 2003. The ZAXIS series was at the cutting edge of technology and was to lay the foundation for greater advances in the future.
In 2013 we launched the ZAXIS GI series of excavators. A part of Tata Hitachi's Global Initiative, the ZAXIS GI series is equipped with state-of-the-art Japanese technology and boasts of several enhancements ranging from performance to fuel efficiency to ergonomics to operator comfort. The range caters to a gamut of applications ranging from agriculture to construction, and from infrastructure to quarrying.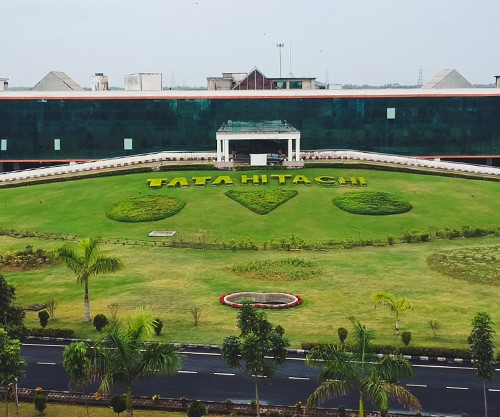 The inauguration of the Kharagpur plant
In 2009, our plant at Kharagpur, West Bengal was inaugurated. This sprawling 250-acre plant is amongst Asia's biggest construction machinery manufacturing facilities.
Apart from excavators, wheel loaders, dump trucks and motor graders, the plant also manufactures customized machines as per specific requirement of the customers. Some examples of customized products are machines with high rise cabins, long arms, and short booms. The plant also manufactures machines as per the requirements of Border Roads Organisation (BRO) and the Indian Army, among others. Catering primarily to the mining sector, the plant contributes approximately 55% of our total machine sales turnover.
The plant also has an R&D setup for component testing, structural testing and performance testing, which helps us constantly fine tune our machines to ensure that they maintain peak performance and durability in the field. The plant boasts of a vendor park that has been strategically developed adjoining the plant. At the same time efforts are also constantly focused on developing vendors in the nearby cities like Jamshedpur and Kolkata. The plant is also home to our remanufacturing centre.
This facility has rolled out more than 20,000 machines to date.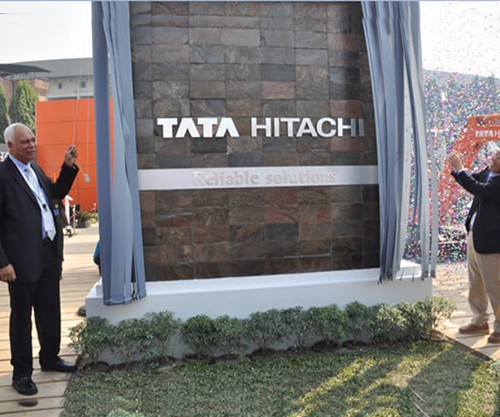 A new identity
In 2012, the company was renamed Tata Hitachi Construction Machinery Company Private Limited – or simply Tata Hitachi. A name that today is recognised as a leader in the Construction Equipment industry.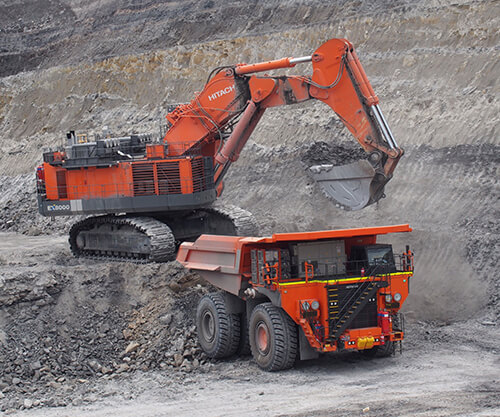 Our mining capabilities are second to none
Our portfolio includes a broad range of mining excavators manufactured in India under the Make in India initiative of the Indian Government. In addition, we offer machines from Hitachi Construction Machinery with higher bucket capacities in both diesel and electric variants. We also offer dumpers with advanced AC drive systems in the 190 to 300 tonne capacities. The latest addition to our mining portfolio is our range of wheel loaders starting at 7 tonne capacity.
With high customer expectation on reliability and low running cost, we have industry-best options for after sales services like Annual Maintenance Contracts, Full Maintenance Contracts, Site Support Agreements, and more, customized as per client requirements.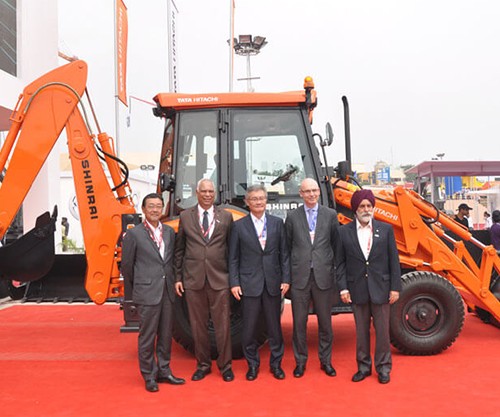 Shinrai – the launch of our all-new backhoe loader
Shinrai in Japanese means reliable, trustworthy, and capable. Launched in 2017, Shinrai, engineered in collaboration with Hitachi Construction Machinery, is all of this and more. Shinrai is the result of efforts to create the most capable and efficient backhoe loader, that can perform effectively in the toughest of conditions. From superior engine performance to best-in-class cabin comfort and convenience to advanced in-built telematics, Shinrai is yet another testimony to our commitment to not only match but surpass customer expectations. In keeping with Government regulations, we also launched our CEV IV compliant Shinrai Prime in May 2021.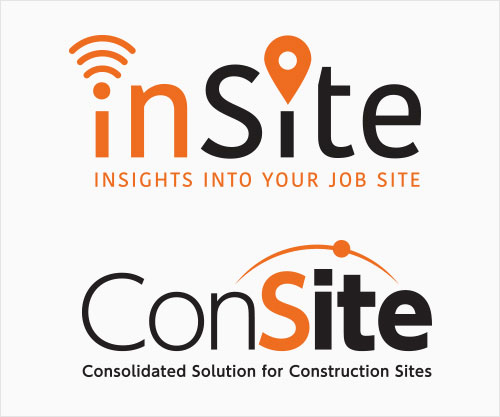 Riding the technology curve
Tata Hitachi has always stayed ahead of the technology curve in the Construction Equipment industry. With increased focus on areas like safety, equipment efficiency, comfort and remote connectivity, the use of technologies like IoT, telematics and AI has become par for the course for Tata Hitachi.
ConSite and InSite are two proprietary technologies that enable customers to remotely monitor the health of their machines through granular, real-time operational data on maintenance and location. This allows customers to visualize the operational status of the machine and improve the efficiency of machine management. This also helps in planning for maintenance and breakdowns, apart from performing the critical function of mitigating unanticipated breakdowns. All these are ultimately geared toward the customer in terms of maximising productivity and thereby profitability.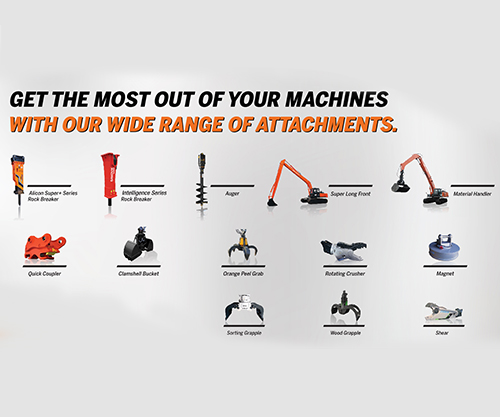 Attachments for an assortment of needs
Our wide range of attachments for an assortment of requirements ensures that our customers can extract maximum value from our machines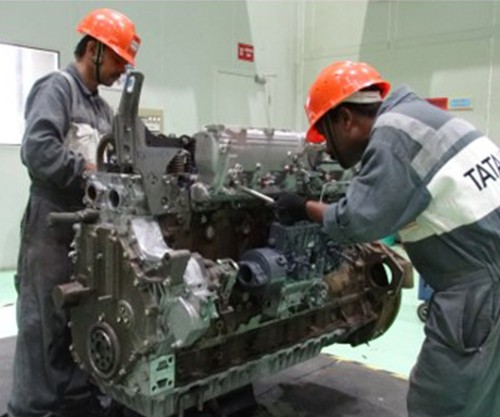 Maximising customer value through remanufacturing
We, at Tata Hitachi, are deeply committed to maximising customer value. One environmentally conscious method of doing this is through remanufacturing. Towards this end, in 2018, we set up a Remanufacturing facility at Kharagpur. In line with HCM benchmarks. This Reman Centre refurbishes aggregates and the components remanufactured here are hydraulic aggregates and engines for our ZAXIS series models. This is key in offering customers competitively priced options at almost the same levels of functionality as new aggregates. The centre also plays a crucial role in ensuring stock availability of re-man components at a dealer or at the warehouse nearest to the customer, thereby ensuring reduced machine downtime.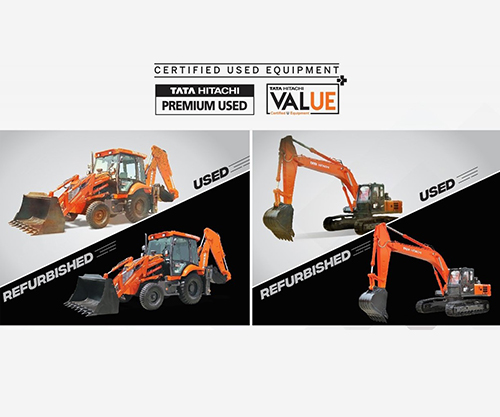 Certified Used Equipment
With the objective of providing reliable certified used machines to customers, we started our certified used programme called Tata Hitachi Used Equipment. Through the Tata Hitachi certified program, customers can buy, sell or exchange used equipment of any brand.
Our focus on quality is at the heart of our used equipment business. Coupled with the commitment to facilitate outreach to customers. A commitment backed by a country wide network of Authorized Dealerships promising a robust support system. At Tata Hitachi, each used equipment is evaluated though a comprehensive 64-point performance test overseen and controlled by our engineers.
The business operates in two categories. One is Tata Hitachi Premium Used, which includes certified used ZAXIS Series Excavators. The other category is Tata Hitachi Value Plus, which includes certified used EX Series excavators, wheel loaders and backhoe loaders. Machines of both categories are refurbished at authorized Tata Hitachi dealer workshops.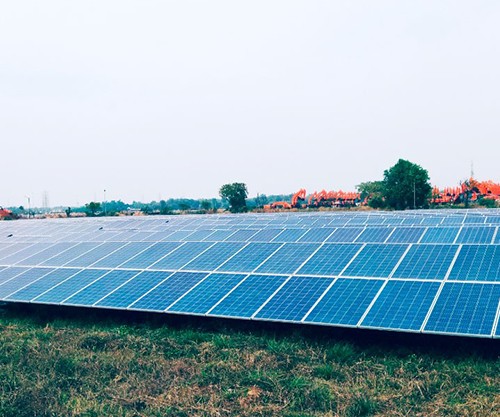 Environmental stewardship
In line with HCM's vision for creating shared value (CSV), we work on three underlying themes of resolving global environmental issues, enhancing initiatives to increase social infrastructure workforce, and contributing to community development.
Some of our specific goals include affordable and clean energy, sustainable cities and communication, responsible consumption and production, and climate action. Today, 80% of power in our plants are from renewable sources. In addition, the admin buildings at both plants are LEED Platinum certified green buildings.
From large-scale product and process CO2 reduction through Increased use of renewable energy, lowering product fuel consumption, product efficiency enhancement through technology, and use of electric equipment technology, among several others.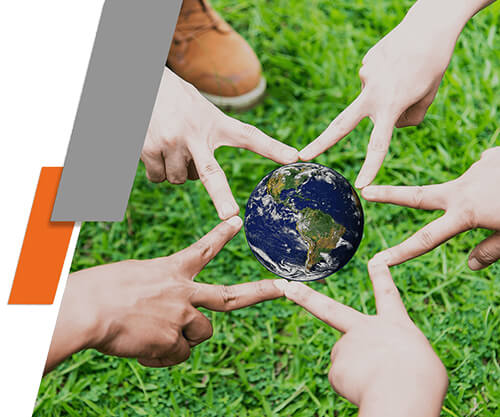 Securing our tomorrows
As a responsible corporate citizen, we have also successfully demonstrated our larger commitment to society through our CSR programmes. The aim is to improve the quality of life of communities in and around the catchment areas of our operations. These outcome-based initiatives are carried out under four broad heads, namely, Skill Development, Literacy, Rural Development and Healthcare.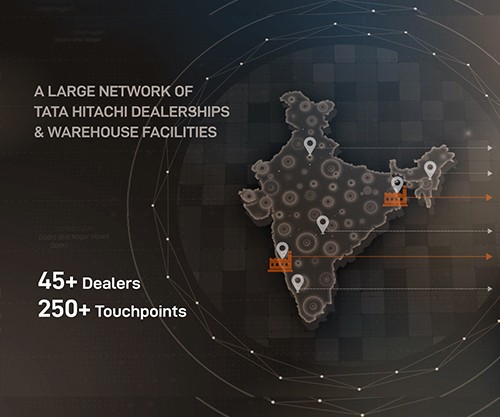 Ensuring that we are never far from the customer
One of the hallmarks of our leadership position is our commitment to be as close to our customer as possible. This is achieved through our robust network of dealerships, manufacturing facilities, workshops, warehouses and offices. With over 240 touch points, ours is one of the largest distribution networks in the country. In addition, we also export to 21 countries through our four international dealerships. Our export presence includes Kenya, Tanzania, Uganda, Zambia, South Africa, Algeria, Ghana, Senegal, Ivory Coast, Guinea, Belgium, Saudi Arabia, Oman, Qatar, Sudan, UAE, Nepal, Sri Lanka, Bangladesh, Bhutan And Maldives.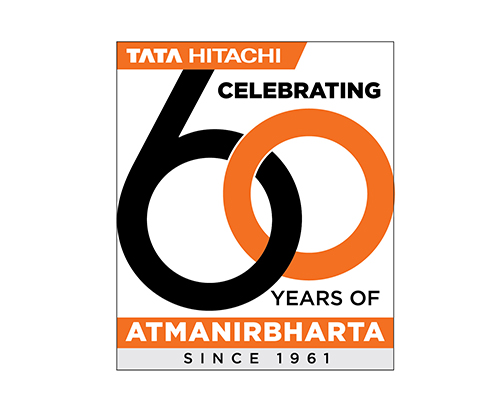 Eyes on the horizon
Our fundamentals are strong. Our strong and increasing base of dealers and vendor partners who have grown along with us, are a vital part of our operations. Our manufacturing capabilities have grown from strength to strength. We can today proudly say that a substantial part of our machines and their components are sourced and built in India. We have in our fold over 50,000 customers, and our family, is growing by the day!
Over the past 60 years, we have exhibited our steadfast commitment to building a greater tomorrow. As the government continues to expand its thrust on infrastructure development, we are pledged in our vision and mission to be a reliable and trusted partner in an endeavour to usher in a brighter future and Aatmanirbhar Bharat – reflected, in our clarion call – 'Chalo Desh Banaye.'