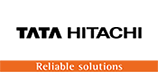 ZAXIS 80 GI Series Launch in Mangalore
ZAXIS 80 GI Series Launch in Mangalore
ZAXIS 80 GI Series Launch in Mangalore
– Mangalore, 18 March 2015
The Tata Hitachi Mangalore team organized a product launch and handing over ceremony for the ZAXIS 80 GI Series Hydraulic Excavator on 18th March 2015. The event was organized at the Eden Aquatic Club, Mangalore.
The event included a presentation on the key features of the machine, a machine walk around, felicitation of key customers and handing over. Senior dignitaries from THCM graced the occasion and interacted with customers of the region.

Tata Hitachi is proud to receive the bulk order of 15 units of ZAXIS 470H GI series hydraulic excavator along with Full Maintenance Contract from M/s. SI CAL Logistics Limited, Bangalore. SICAL is a Café Coffe Day group company which has ventured into Mining operations at Mahanadi Coal Fields Ltd., Samaleswari Mines, Orissa. It was a proud moment for Tata Hitachi to handover the first set of 8 units of ZAXIS 470H GI series hydraulic excavator at Samaleswari Mines site on 17 th September 2015.