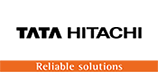 Tata Hitachi participates in EXCON 2017
Tata Hitachi participates in EXCON 2017
– Bangalore, 12th – 16th December, 2017
This year, the Tata Hitachi booth at EXCON 2017 showcased the company's commitment to our brand theme of 'Chalo Desh Banaye'.
The star attraction was the unveiling of our all new backhoe loader, TATA HITACHI SHINRAI. The other launches included the launch of ZAXIS140H: the latest addition to the GI series, promising unbeatable performance; the quarry variant of EX210 Super – with a heavy duty track chain, rollers, idler and re enforced bucket and front attachment links ; EX210 Super with an indigenous super long front attachment, re designed and strengthened to suit Indian conditions. Keeping pace with technology, we launched INSITE – a new telematics suite for out EX series of hydraulic excavators and wheeled products.
And last, but not the least this edition of EXCON saw the launch of the Tata Hitachi brand shop – armed with a range of exciting merchandise!