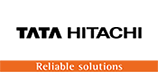 Sandeep Singh joins Tata Hitachi as Managing Director
Mr. Sandeep Singh joins Tata Hitachi as Managing Director
– Bangalore, July 23, 2015
Mr. Sandeep Singh will join Tata Hitachi Construction Machinery Co. Ltd, as Managing Director with effect from 1st August 2015. He will succeed Mr. Ranaveer Sinha who has just relinquished his position after a long innings at the helm of Tata Hitachi, will now assume a new role of Senior Advisor with Hitachi Construction Machinery Company Limited.
Mr. Singh brings with him rich experience of over three decades in Sales, Marketing, Customer Support and General Management roles across Automobiles, Tractors and Constructionn Equipment sectors in India and abroad.
Mr. Singh has worked with Mahindra's, JCB and the last being Executive Managing Coordinator Toyota Motors (Asia Pacific), Thailand. Prior to this Mr. Singh was the Deputy Managing Director and Chief Operating Officer of Toyota Kirloskar Motors in India.