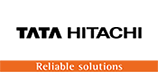 Hitachi EX2000-7 Ultra-Large Hydraulic Excavator Coming October 2021
– October 22th, 2020
An entirely new hydraulic circuit will reduce fuel consumption by up to 19% with no loss in productivity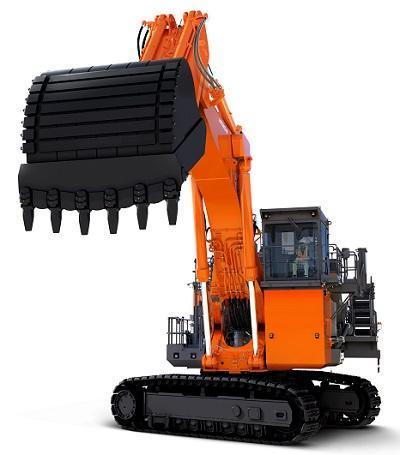 The EX2000-7 ultra-large hydraulic excavator (for illustrative purposes only)
Tokyo, Japan October 22th, 2020: Hitachi Construction Machinery Co., Ltd. (TSE: 6305; "Hitachi Construction Machinery") today announced that the company will launch the Hitachi EX2000-7 ultra-large hydraulic excavator in October 2021.The EX2000-7 is remodeled from EX1900-6 and consumes up to 19% less fuel while maintaining the same productivity.
EX2000-7 has high durability of structural parts achieved by the design employed on the current EX-7 series machines and it can incorporate support services for repair works and inspections based on ICT and IoT. In addition, it achieves higher fuel efficiency due to an entirely new hydraulic circuit, an addition of a work mode selection function, etc. Because of drastic cutbacks in fuel consumption, the machine contributes to reduction of environmental impact and the life-cycle cost.
Since the first large hydraulic excavator UH50 (operating weight: 159 tons) was launched in 1979, ultra-large hydraulic excavators by Hitachi Construction Machinery have worked at mine sites throughout the world gaining a reputation for high productivity, reliability, durability, etc. Also, we have provided solutions such as mining equipment utilizing ICT and IoT and operation control systems to address challenges faced by customers such as improvement of safety and productivity and the reduction of life-cycle costs.
At an operating weight of 193 tons, the EX2000-7 is one of the smaller Hitachi EX-7 ultra-large excavators, high demand is expected from small-to medium-sized mining and quarrying operations, to whom fuel efficiency is critically important.
The EX2000-7's impressive 19% fuel saving has been achieved through a range of new designed, energy-efficient features that have made the engine more compact while retaining outstanding productivity. When compared with its predecessor, the EX1900-6, the EX2000-7 can save as much as 460 tons of CO2 emissions per year per machine2.
Features of EX2000-7
Hydraulic oil flow is controlled according to the operating pattern and front-end attachment geometry
An all-new hydraulic control system has been developed and, for the first time, employed for an ultra-large hydraulic excavator which allows more precise management of the hydraulic oil flow in each control valve throughout the digging and loading cycle.
In the operation of a hydraulic excavator, the operator finely adjusts the boom, arm, bucket and swing speed with the operating levers to quickly bring the bucket to the digging position after digging and loading mineral ores or other materials to a dump truck. Under this scenario a conventional hydraulic circuit would return unused or excess oil circulated throughout this cycle from the hydraulic pumps back to the oil tank, which constituted a loss of energy and presented a room for improvement. In the EX2000-7's new hydraulic circuit, the oil flow rate to each cylinder(for boom, arm, or bucket)and swing motor is independently controlled for each operational pattern such as excavation, swinging or dumping and the load to the front-end attachment to optimize energy efficiency of the system. Thus, fuel consumption is kept as low as possible.
Delivery flow rates of the hydraulic pumps are finely controlled by electronic regulators
Hitachi EX-7 excavator all hydraulic pumps are equipped with electric regulators to precisely control oil flow, based on operating lever positions and engine load. Fuel consumption is lowered by finely controlling the delivery rate of each pump according to the operating lever positions, which are controlled by the operator, and machine load.
Work Mode Selection Function
A new mode selection feature on the EX2000-7 now allows the operator to select one of three working modes – High Power (HP) Mode, Power (PWR) Mode or Economy (ECO) Mode – to optimize productivity and fuel efficiency for different types of operation. This feature has been applied to medium- and small-sized hydraulic excavators.
High Power (HP) Mode is suitable for heavy-duty operations such as bedrock excavation. It reduces fuel consumption by up to 19% with the same productivity as the EX1900-6. Power (PWR) Mode is suitable for most general operations. Fuel consumption is reduced by about 25% and productivity by 10% compared to the EX1900-6. Economy (ECO) Mode is suitable for light operations. Fuel consumption is reduced by up to 40% and productivity by about 30% compared to the EX1900-6.
Relationship diagram showing production per unit time and fuel consumption per unit time of the EX2000-7 in each work mode. EX1900-6 included (▲) for comparison purposes.
Strengthening of the front-end attachment structures
The EX2000-7 boom-arm joint area and main frames are now designed in line with our larger mining machines. The pin connection between the boom and arm has changed from a single pin to a double pin, which is employed for larger excavators (250 ton and heavier). This has made the boom and arm stronger and much lighter3, allowing for safer and easier pin replacement to help further reduce life-cycle costs. Following utilizing operating data the main frame has also been redesigned by analyzing its stress condition to disperse stress as evenly as possible during operation, increasing durability of the machine.
Upgraded oil cooler and radiator by optimally controlling the rotating speed of the fans
On EX-7 series machines, the rotating speed of the oil cooler fan is increased in proportion to the increase of hydraulic oil temperature to cool the hydraulic oil. The speed of the radiator fan is controlled by taking into account both the ambient temperature and the engine coolant temperature. Through this innovation, thermal degradation of the seals of hydraulic components is prevented and cracking and scoring of their internal parts due to thermal expansion are also prevented. As a result, reliability of the hydraulic pumps, the cylinders and the motors are increased and energy efficiency is also increased, contributing to a reduction in fuel consumption.
Far-reaching expansion of functionalities for supporting mining operations
ConSite® Mine (scheduled for release in 2021) helps resolve problems at mine site efficiency through the use of IoT and AI (Artificial Intelligence) technologies. It will be available for the Hitachi EX-7 series to contribute to minimize machine downtime and to stable operation of machines.
Additional to ConSite® Mine, the EX2000-7 will come ready for the integration of a Remote Operation System, Operation Support System and Autonomous Operation function, all for which testing is scheduled to begin within fiscal year 2021. In the future, Hitachi Construction Machinery will realize autonomous mining operation by coordinating hydraulic excavators and AHS (Autonomous Haulage System), which will enhance safety and productivity to a new level.
The Hitachi Construction Machinery group will contribute to "Safety enhancement," "Productivity enhancement" and "Reduction of life-cycle cost", which are challenges faced by customers, as a close and reliable partner.
Basic Specifications
Item
EX2000-7
Engine
Manufacture
Cummins
Model
QST30-C
Rated power(kW/min-1)
746/1,800
Backhoe
Operating weight  (T4F/FCO)
195,000/19,300
Standard bucket capacity by new JIS (m3)
12.0
Bucket digging force(kN)
701
Arm crowd force(kN)
628
Loading shovel
Operating weight  (T4F/FCO)
194,000/19,200
Standard bucket capacity by new JIS (m3)
12.0
Bucket digging force(kN)
737
Arm crowding force on ground(kN)
700
Standard retail price (backhoe)
Quotation to be submitted on request
Standard retail price (loading shovel)
Quotation to be submitted on request
JIS: Japanese Industrial Standards
When operated in HP mode.
Difference calculated between EX2000-7 and EX1900-6 using rated output power, fuel consumption amounts per unit of time and engine load factors, with final difference converted to CO2 emissions per year.
Applies only to BE front (Backhoe front attachment for bulk excavation)
SI (International System of Units) base units are used.
Trademark notice
"ConSite" is a registered trademark of Hitachi Construction Machinery Co., Ltd.
Related Information
July 5, 2018: Hitachi Construction Machinery Announces New EX-7 Series Mining Excavators
July 16, 2020: Verification Tests to Start Directed at the Development of Autonomous Ultra-Large Hydraulic Excavators
September 30, 2020: ConSite® Mine developed by utilizing IoT and AI technologies helps maintain availability and extend the life of valuable mine equipment
Information contained in this news release is current as of the date of the press announcement, but may be subject to change without prior notice.